What is the best nursing pad for preventing thrush and what features should I look for?
Since thrush is an overgrowth of yeast, it is normally found in the mouth, breasts and genitals. The perfect breeding ground for thrush is in warmth and moisture. Using antibiotics also increases the risk of developing thrush. Breast milk is warm and thus creates a perfect place for thrush to form, which is why the best nursing pads will be those that has high absorbency and can remain dry for as long as possible. Whenever you find that your nursing pad is wet, you should change it.
There is a list of best nursing pads voted for on Healthline, which caters for different needs. The best disposable nursing pad voted for was Lansinoh Stay Dry Disposable Nursing Pads. The best reusable nursing pad voted for was Bamboobies Washable Nursing Pads. The most versatile nursing pad voted for was Curve by Cache Coeur Washable Nursing Pads. The best no-show nursing pads voted for was BabyBliss Bamboo Nursing Pads. The best lightweight nursing pad voted for was NUK Ultra Thin Disposable Nursing Pads. The best overnight nursing pad voted for was Medela Disposable Nursing Pads. The best nursing pad for sensitive nipples voted for was AmedaComfortGel Hydrogel Pads. The best eco-friendly nursing pad voted for was LilyPadz Reusable Nursing Pads Starter Kit.
Each nursing pad is unique in what it offers, whether it be disposable, eco-friendly, or reusable. All of them are great at preventing thrush if you use them correctly. This isn't so much about the nursing pad as it is about your own personal hygiene while breastfeeding. Keeping your nipples dry between feedings is what will keep the thrush at bay. If there is no breeding ground for the thrush to thrive in, then you shouldn't have a problem. If you happen to have to take antibiotics, then the doctor will prescribe healthy flora to combat the possibility of developing thrush.
There are however some features to look for when choosing a nursing pad. But again, this does depend on your preference. While some women will opt for a disposable nursing pad, another will look for the most eco-friendly option that there is, and yet another will opt for reusable nursing pads either to save cost or to be as nature conscious as they can possibly be. Whatever you may choose, it is important to look for a nursing pad that is first and foremost highly absorbent. This will prevent you from having to change your nursing pad once an hour or more. The second thing you will want to look for is a nursing pad that will be soft on the nipples. It won't be of much help if you don't have thrush, but end up with dry, chafed and cracked nipples. The last thing to look for is a nursing pad which fits your lifestyle.
Another feature that you should take into consideration is the price. You have a newborn to look after, and you have to ensure that you're not spending all of your money on nursing pads. Having said that, you also need to try and steer clear of the cheapest option on the shelf. A lot of really cheap disposable nursing pads are made of harsh materials that has been bleached and treated with other chemicals. Therefore it is pertinent to do your homework before you bring baby home and start nursing. Since breast milk starts coming in about a week before the baby is born, this should give you time to plan and do research.
What is the difference between disposable and washable reusable nursing pads?
The greatest difference is what these pads mean to the environment. For the most part, disposable pads are not bio-degradable, and will thus land up in a landfill, our drinking resources, or the ocean. In recent years this has changed.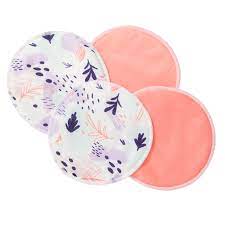 While the word 'disposable' immediately conjures up visions of massive landfills, this is definitely not always the case. Especially in recent years, companies have strived to make disposable breast pads that are both easy to use and is also eco-friendly. The nice thing about disposable breast pads are the comfort of use, but on the flip side of the coin it can become expensive in the long run. This is especially true if you opt for the more expensive breast pads in order to think green. Some of the eco-friendly disposable breast pads that are available are the organic cotton pads, and the bamboo pads. Both are soft on the breast and nipple, are hypoallergenic, and contains no bleaches or other harmful chemicals. This is often the problem women are faced with when buying cheap disposable breast pads. Those breast pads are made from non-degradable materials, which are made from inferior materials which is bleached and treated with a myriad of chemicals, and often leaves the breast and nipple sore and chafed.
Then we have reusable breast pads. This is possibly the future of breast pads, as they are very cost-effective and extremely eco-friendly. There is a wide array of them available in stores and online, with different shapes and sizes available. One thing that women do complain about with reusable breast pads are that they tend to shift, since there is no adhesive to keep them in place. But this is a small discomfort in exchange for the cost you'll be saving and the small carbon footprint you'll be leaving. Most reusable breast pads are made of either cotton or bamboo, and sometimes a mixture of the two. You have to remember though that you need to allow the reusable breast pads to dry before tossing them in the laundry basket. If you don't wash them immediately and leave them in a moist state, they can become moldy and will have to be thrown away.
What are the best eco-friendly nursing pads?
According to Verywell Family, they have compiled a list of the ten best nursing pads of 2022. This list has also been reviewed by medical healthcare professionals. The overall winner of this list is NatureBond Bamboo Nursing Breast Pads. They are reusable, and have a contoured shape for your comfort. The best disposable is Lansinoh Stay Dry Nursing Pads, the best ultra thin is NUK Ultra Thin Nursing Pads, the best for heavy leaking is Medela Disposable Nursing Breast Pads, the best for large breasts are Mother-Ease Cloth Nursing Pads, the best eco-Friendly is Bamboobies Disposable Nursing Pads, the best Reusable is EcoNursing Reusable Bamboo Nursing Pads, the best for sensitive skin is Bamboobies Washable Reusable Nursing Pads, the best silicone is LilyPadz Reusable Silicone Nursing Pads, and the best gel is LansinohSoothies Breast Gel Pads.
Many disposable pads are now using materials that are closer to nature to ensure that it is eco-friendly, bio-degradable and compostable. Cloth and other reusable nursing pads such as silicone and gel nursing pads do have greater advantages as they are more cost effective and are made of more sustainable sources that are more eco-friendly in many ways.
Bamboo nursing pads
There is a wide array of bamboo nursing pads available, each with their own benefits. Most bamboo nursing pads are made of bamboo viscose, which makes it soft, breathable, and extra absorbent. Some bamboo nursing pads are disposable, but many are reusable. Thus it comes down to what your preference is. The one pro of disposable bamboo nursing pads are that they have an adhesive strip on the back that keeps the nursing pad in place, thus avoiding slippage.
Best nursing pads
Being a new mother is already a daunting task. You have this tiny new human to take care of; feeding, changing nappies, bathing, clothing, comforting, and so much more. On top of all that you are probably still recovering from the birth, whether it was a natural birth or a caesarean. There is also the danger of post-partum depression, worries about bonding with your baby, fear of what the future holds for them, and hoping you can provide for them in the best possible way. Then there is the breasts. Whether or not you choose to breastfeed, your breasts are going to be producing milk, and it is also going to leak milk.
The last thing that you want to be worrying about are annoying wet spots on your clothes. Most women find this embarrassing, especially if this happens in the workplace. Therefore many women turn to nursing breast pads to catch the naughty milk that is escaping. This too can be a daunting task, as there are so many options to choose from. When choosing a nursing pad, you need to look at a couple of things. Is it cost effective? Does it suit your lifestyle? Is it sustainable? Does it meet your personal needs? Taking all of this into consideration, there is no way to pinpoint just one specific nursing pad that is the best. The above list does cover all of the different options as voted for by the public and reviewed by doctors, so that might be a good place to start. Also do your own independent research to find which product will best suit you.